The best places to live in Dubai for beach lovers
While looking for the appropriate home to settle in, be sure the neighbourhood suits your lifestyle. Some people choose to live in a noisy, busy city, while others want to settle down in a quiet neighbourhood surrounded by gorgeous scenery. Then there are those who adore nothing more than relaxing next to spotless beaches: beach lovers.
Since the early 2000s, HNIs have been drawn to Dubai as a prime waterfront investment market. Waterfront apartments are the height of luxury living and provide both physical and mental healing. In Dubai, there are many opulent waterfront apartments that can meet your needs. Rents have dropped and real estate development has increased, making beachside neighbourhoods more accessible to more people.
Do you want to live close to the waterfront region in Dubai but are worried about the cost? There's a good news: Buying an off plan property is less expensive than the ready to move property. Here is a list of the top 6 waterfront regions in Dubai, from stunning beach views in the morning to sunsets over the creek.
The greatest in coastal living is offered to residents of Palm Jumeirah, which bills itself as the eighth wonder of the world. Due to the magnificent marina and private beaches, the island is home to many celebrities and socialites. Many people have free access to upscale beaches if they buy a property in Palm Jumeirah.
Apartments close to the fronds might be a wise investment for high incomes who adore the beach. A high-end waterfront lifestyle is characterised by private beaches that are accessible from the backyards of lavish homes.
The homes perched atop the trunk of the palm tree are an option for those without the money to rent a coastal property.
The Atlantis, a hotel with decor modelled after the buried lost city of Atlantis, adds to the luxury of Palm Jumeirah. The Kempinski Hotel and Residence Palm Jumeirah, Fairmont, and other top-notch lodging options can be found in the neighbourhood. There are many magnificent beachfront resorts available to both locals and tourists, including The Palm, Jumeirah Zabeel Saray, One&Only The Palm, Anantara The Palm, Rixos The Palm, and many more. 
Read more about : Top Reasons for Investing in Dubai Off Plan Properties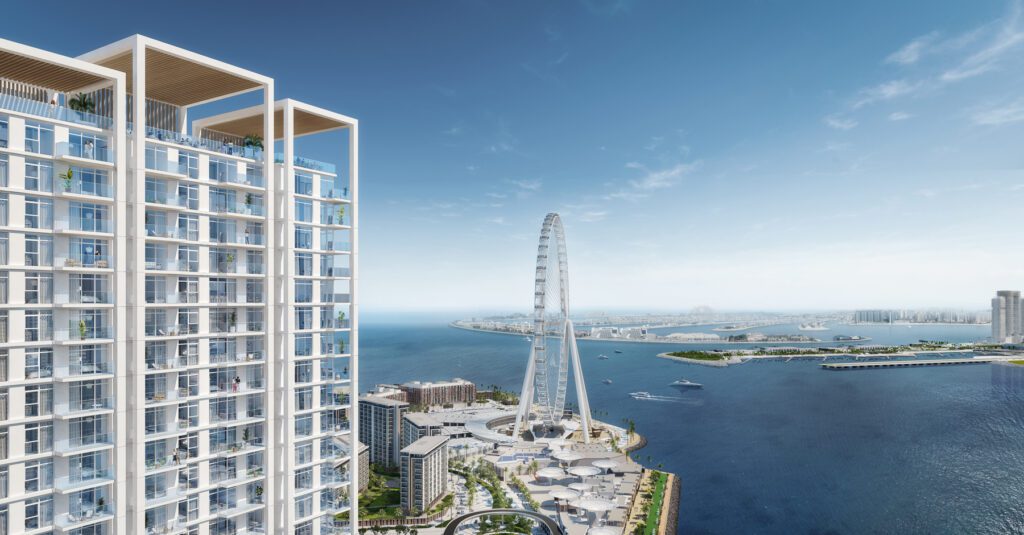 An artificial mixed-use island called Bluewaters Island is located off the shore of Jumeirah Beach Residence. The development's centrepiece, The Ain Dubai, is situated in the soon-to-be-active area.
One of Bluewaters' main selling points is its fantastic location. From the island, there is direct access to the Sheikh Zayed Road as well as public transit. Additionally, a pedestrian bridge connects it to JBR. Also, the area provides enough parking for both residents and visitors.
Residents have their pick of premium waterfront apartments, penthouses, and townhouses in this urban. If you want peace and quiet away from the hustle and bustle of the city, Bluewaters Residence is the place for you!
Dubai Marina is one of the most sought-after neighbourhoods in the city, catering to both tourists and modern entrepreneurs. The neighbourhood welcomes visitors from all over the world all year long, whether it's due to the enviable location in the city or its stunning waterfront views. The goal of Dubai Marina is to appeal to a wide spectrum of people who want to live in a vibrant area with everything nearby as well as savvy investors who want to see a big return on their investments.
Dubai Marina areas are famous for its luxurious structures and waterfront apartments. The master-planned neighbourhood includes more than 200 residential towers, as well as streamlined roads and boat connectivity. The micro-market also has one of the highest ROIs with more than 6%.
Dubai Marina serves as the geographic centre of the 4.6 million square meter area known as "New Dubai." Nearby are a number of opulent apartment towers, fine dining establishments, sports arenas, and entertainment options. As a result, it is regarded as Dubai's premier residential neighbourhood. Dubai Marina is likely to be the starting point and the ending point of any ranking of the best neighbourhoods in Dubai for singles, families, or both.
The Jumeirah Beach Residence is a remarkable, exotic, and magnificent beachfront residence (JBR). It offers top-notch waterfront apartment options that are all concerned with your comfort and convenience, including hotels and flats. JBR is a long stretch of high-rise buildings along Marina Beach. Only balconied apartments and underground parking are available in this neighbourhood. On the street, there are many cafes, shops, and a movie theater.
However, given how popular the beach is, weekend and late-night traffic can occasionally be a pain. As a type of recreation, JBR residents can go cycling, jogging, walking, or running. 
Expats frequently prefer to own or rent apartments with the guidance of the best real estate companies in Dubai for a variety of reasons. The JBR region's primary attraction is the revitalizing Beach. Second, there is a centre for shopping, amusement, and entertainment. In addition, it's one of the nicest neighbourhoods in Dubai for expats to dwell in because of its close proximity to thrilling watersports and sun-drenched cafes. If you decide to start your life here, you will have access to the best cuisine and entertainment options.
One of the most desired and anticipated developments is Dubai Creek Harbor. For your amusement, it offers residential sections, shopping malls, and a variety of other activities. The highest building in the world, which competes with the Burj Khalifa, is located here. It's the ideal location for lavish living because it's close to Downtown Dubai.
The location of a home is the most important factor to consider; everything else comes second. Dubai Creek Harbor is a good location for investments as Dubai Downtown is only about 15 minutes from it. Dubai Creek Harbor is a real gold mine for locals and investors because Downtown, the centre of the city's activity, is only a few minutes away. Residents have the option of a peaceful beach lifestyle while still being close to the action.
La Mer, located in the centre of Jumeirah 1, is now known as the most memorable beach in Dubai thanks to its gorgeous blue ocean and warm white sand. There are more than a hundred stores, eateries, cafes, a waterpark, a trampoline park, a skatepark, and a movie theatre in the area. The exhilarating watersports at La Mer Beach are readily accessible to locals on foot. Your one-stop beach retreat is La Mer. There are a number of townhouses, villas, and apartments in the neighbourhood with views of the open beach and Dubai cityscape. For those who desire a luxurious beachside lifestyle, it is perfect.
Having an off-plan house in La Mer is the perfect option for you if you're searching for some relaxing retail therapy or if you're in the mood to shop till you drop. So be sure to buy an apartment at La Mer to have a wonderful experience at Dubai's most spectacular beach location. 
Conclusion
If you would like to invest in a waterfront apartment in Dubai, you should consider your neighbourhood. The places to live in Dubai that are mentioned above might be beneficial in this regard. They stand out due to their distinct outside appeal and inviting interiors.
Residents who live near the beach can anticipate a wide range of luxurious facilities and amenities. Depending on the apartment, this might include everything from a swimming pool and sauna to a 24-hour concierge service, fitness centres, outdoor grilling spaces, a children's playground, and more.
Homesphere is one of the best Real Estate Companies in Dubai that offers accurate listings for each of the above-mentioned places. We have years of experience helping investors buy properties in all of the major submarkets in the emirate of Dubai. We can assist you with any investment decisions you may be considering because we are intimately familiar with every significant and niche developer active in each of these markets.
If you want to know more about Beachfront properties in Dubai or have any inquiries about buying real estate in Dubai, don't hesitate to get in touch with us. Do follow us for more updates!